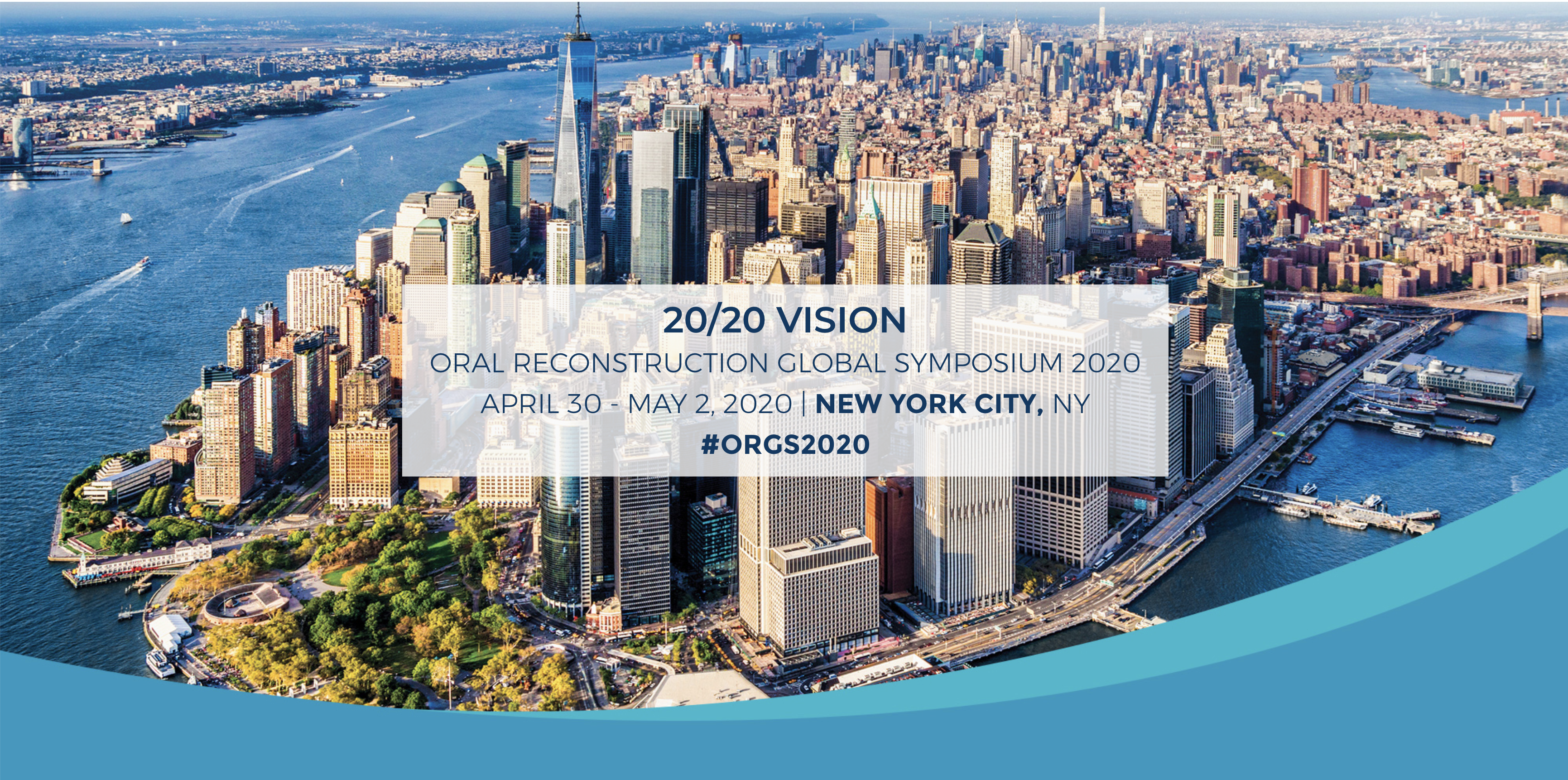 Mark your calendar for the Oral Reconstruction Global Symposium 2020
at the iconic New York Marriott Marquis.
"THE BEST VISION IS INSIGHT."
Malcolm Forbes
The Global Symposium offers the perfect opportunity to stay abreast of the latest treatment options while enjoying time with colleagues in the heart of Times Square.
New York City, the largest city in the U.S., is an architectural marvel with plenty of historic monuments, magnificent buildings and countless dazzling skyscrapers. Besides the architectural delights, New York is an urban jungle that has everything to offer to visitors. The city is home to numerous museums, parks, trendy neighborhoods and shopping streets.


Check out the Scientific Program and the Breakout Sessions
Mark your calendar for the Oral Reconstruction Global Symposium 2020 at the iconic New York Marriott Marquis.
Tara Aghaloo
Edward P. Allen
Michael Block
Stephen Chu
Paulo Coelho
Lyndon Cooper
Luca Cordaro
Dan Cullum
Edgard El Chaar
Carlo Ercoli
Vincent Fehmer
Andrew Ferrier
Stefan Fickl
Ramón Gómez-Meda
Fernando Guerra
Christian Hammächer
Sönke Harder
Gerhard Iglhaut
Ronald Jung
Bach Le
Curry Leavitt
Ye Lin
Tomas Linkevičius
Craig Misch
Justin Moody
Martijn Moolenaar
Katja Nelson
Myron Nevins
Michael Pikos
Nelson Pinto
Marc Quirynen
Robert Sader
Irena Sailer
Mariano Sanz
Guido Sarnachiaro
Frank Schwarz
Arshiya Sharafi
Bart Silverman
Marius Steigmann
Michael Stimmelmayr
Dennis Tarnow
Thomas Taylor
Tiziano Testori
Dean Vafiadis
Hom-Lay Wang
*Faculty and presenters may be subject to change.
REGISTER NOW!
Attendance will be limited to maintain an environment conducive to learning.
Explore the city that never sleeps
There is no city quite like New York City, and no hotel quite like New York Marriott Marquis. Set in the heart of Times Square on West 46th Street and Broadway, the iconic Manhattan hotel lets you experience all the magic of NYC from the moment you arrive. Feel the energy all around you, both within the hotel and as soon as you step outside. Inside the towering hotel, you'll find some of New York City's largest hotel rooms and suites and multiple restaurants, including the only revolving restaurant in the city and a popular outdoor lounge. Whether visiting for a family vacation, a Broadway show weekend or attending a conference, New York Marriott Marquis is truly the perfect hotel for your stay in New York City.
Source: https://www.marriott.com/hotels/travel/nycmq-new-york-marriott-marquis/
You want first-hand information?
Sign-up for our newsletter